Business update whitebridge 2020 and beyond: re-set the sourcing strategy
Where we are – looking back
Over the last year, Whitebridge realized a significant growth and broadened the portfolio of services. We succeeded to be the sourcing advisor to international corporations in all phases and we saw customers successfully implementing our strategic advices. Next, very capable new partners joined Whitebridge and we celebrated our 10-year anniversary by moving to the beautiful new office at the skyline of Rotterdam.
Unique experiences and insights
We developed and implemented scenarios for the restructuring of the supplier portfolio. With these scenarios, we provided the insights to realize objectives such as a lighter supplier portfolio, focus on own competences to invest in for effective transformation, speed and overall cost reduction.
Speed up the tendering process by spending the time and effort on a meaningful dialogue about the deeper added value required, and standardizing and automating documents such as service descriptions, SIAM schedules and security measures.
Using partnerships to accelerate digital transformations. We went deeper into what really counts in the partnership, not only provide the services that fits best, but align on the intent of both organizations: their Digital DNA.
Going forward; our view on the future
Face the reality. The economy will force companies to pause, rethink their operations, take care of their people and re-set. In our view, it makes no sense to stop all projects and throw away valuable ideas, but rather take a step back, remove all constraints, prioritise and start over again. This will also count for supplier relationships and suppliers themselves.
We see that accelerating Digital will put an explicit pressure on IT partner relationships. The speed to scale up solutions will be high and new competences need to be mature instantly. Building on the competences of partners will be more of an option. Not just for functionality or designs but for instant maturity in security and privacy, data management and cloud services.
Our stake in the future
We will further develop our practice from sourcing to building the partnerships for Digital. For that, we developed break-away partnering scenarios, support to next-generation projects and delivery models and that make sure that partnering will be built on 'intent' and 'purpose'. Next, we will focus on big themes: sourcing the security function, partnerships for DevOps and continuous deployment and smartly re-allocating the IT budget.
In practice this means that we packaged a crisp consulting service for the re-set of the strategy for partnering, building the internal competences and executing the change. We can execute this in a matter of weeks, using On-line tools and market challenges.
We will be happy to catch up, hear your Business Update and reflect on your scenarios for the next months. Let's plan an On-line meeting…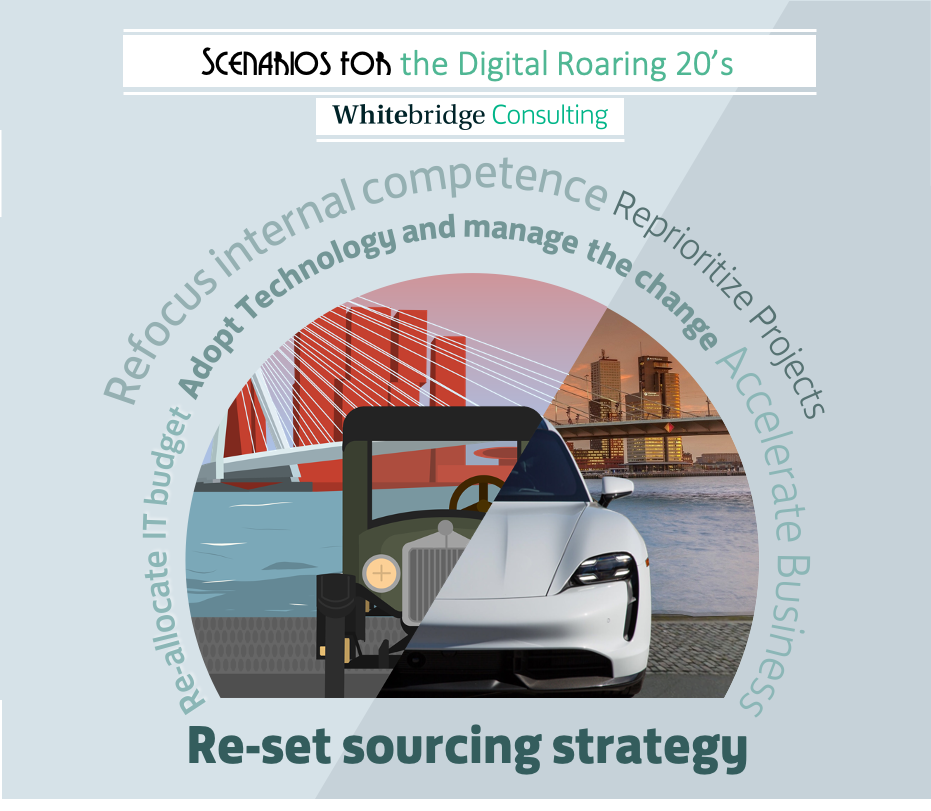 Back to the overview