Business update Whitebridge Consulting 2021: how a pandemic helps focused and effective sourcing
It's going to be a while until face-to-face meetings are common again. So keeping in touch on-line is more important than ever, hence this post. For our part, a brief update on Whitebridge, because last year was difficult and beautiful at the same time: projects were postponed, but eventually did get started, were interesting and fun:
- We executed sourcing and transformation strategy engagements for new clients in Oil&Gas, Retail, Government and Temporary Staffing. With existing clients in Utilities and CPG, we guided Benefits Realization during transformation.
- We further shaped Indysource (the independent sourcing advisor network) as a platform and welcomed new people to our team. From round tables to on-line webinars with Indysource and CioNet.
Returning to the teaser in the headline, we worked on new insights for Sourcing: Our approach has been adapted to Design Thinking, can handle 90-day contracting for more situations and we developed comprehensive service specifications to agree on the desired outcomes ('what do I actually get?') in agreements but we'll tell you more about that in another post.
Focused and effective sourcing
Having typically advised a 'Competitive dialogue' approach – we have long-standing experience with what is now the mindset of Agile, Design Thinking and BusDevOps. We have adjusted our approach so we can work faster for and even more efficient with everyone familiar with these approaches and standards. As always we maintain our focus on the agreement documents and benefits to be realized: you can see that in action below:
Analyze: our co-explore stage doesn't create more slideware but instead builds upon our default contract material to create a tangible draft agreement documents.
Initiation and Selection: is when we start engaging with shortlisted potential suppliers. Which one(s) understand your needs? Can co-design the target state? Shows to be reliable for execution and has the needed price/performance?
Transition and Transformation: this 'proof of the pudding' phase is where our preparation in the form of amongst others an 'integrated deliverable tracker' and respect for reality helps. We can assist with benefits realization but we've worked from day-one to empower your organization to manage the change.
Deliver value: this is where we hope to keep in touch with you for entirely different reasons than the progress of the sourcing engagement, even if only online!
In short, we are in motion, full of and open to new ideas, new contacts and new collaborations.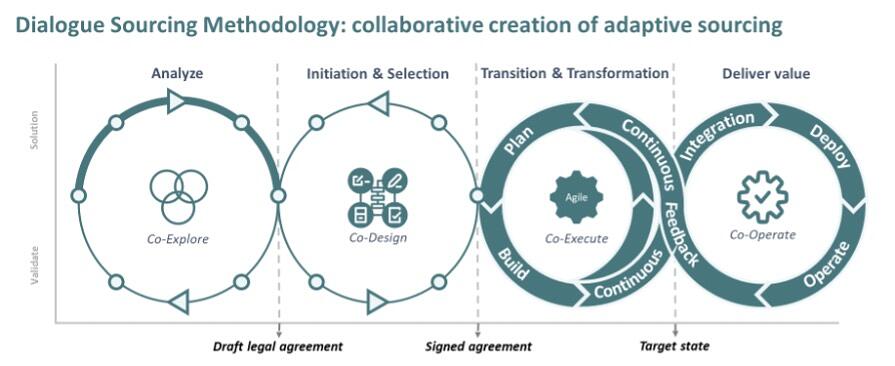 Back to the overview